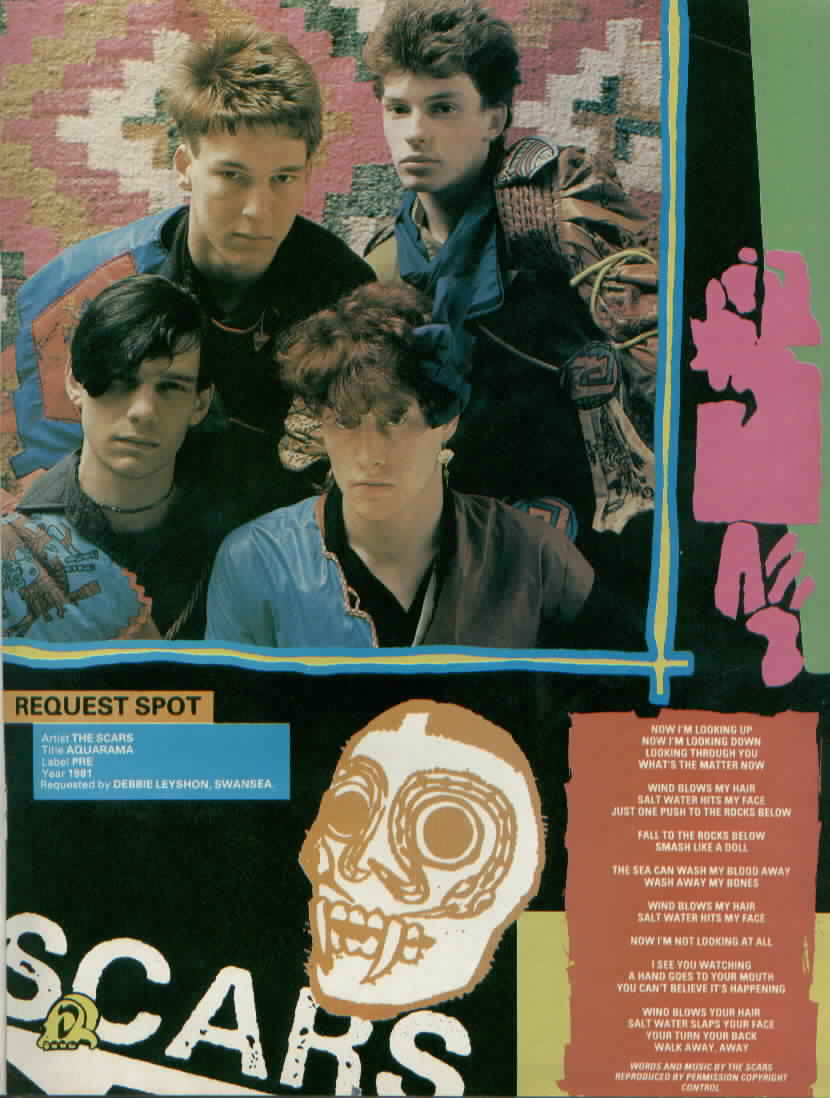 We were now living in London in various degrees of domestic squalor. Because of the excellent press coverage of Author! Author! other publications were now interested in the band. Charisma was prepared to fund some expenses and as a result we occasionally had company on the road from a music journo. Times like that, we would be spending more than it was worth. Record Mirror springs to mind. Only one of the band really got the full value from that brief encounter. International Musician is another defunct magazine - they wanted to know what kind of mikes we used (answer - "hang on I'll just nip inside and check").
When Smash Hits wanted to do a full-page, that was a different matter. It was going to be full colour, full-page and it was going to be totally happening. We walked to Sheila Rock's studio apartment in Holland Park from the tube in the early afternoon. It was a beautiful day. Scars posters were stuck to walls in the centre of London. Sheila had been married to Mick Rock, a very famous photographer, and both of them had worked with Bowie, Roxy, Mott the Hoople, and many, many more and I could not have been more impressed. The only damper was when I looked through some Polaroids which were lying around and found some of the Associates, who had been there a few weeks before. "Tell Me Easter's on Friday" was just out, and looked like it would chart higher than we would. (When we toured America everywhere we went the Simple Minds had just been. You could imagine it was a kind of treadmill.) Anyway, her apartment was a real studio flat. It was 2 stories high, but just one big room, empty inside. You had to climb up a ladder to get to the roof space where natural light was coming through. We posed in front of a white sheet for quite a while, but the photo they used is one of us all in front of some kind of ethinc rug. Photographers always wanted us to put our heads close together, which made us feel like the Beatles.
Thanks to Debbie Leyshon of Swansea for writing to Smash Hits. Where are you now? And Sheila, if you read this I'll happily pass on your royalties for the use of this shot.