Scars & Lemon Jelly March 2005
---
| | |
| --- | --- |
| | Kentish Town Forum - photographer unknown |
Sometime back in December 2004 I heard that our debut single Horrorshow from 1979 had been sampled by Lemon Jelly. My first thoughts were to make sure we were credited for the sample with PRS - turned out the guys had registered the song '79 AKA The Shouty Track in summer 2004, and very decently were giving the Scars half of the songwriting credit. I was so used to being ignored by the music business - thanks Virgin Music - that this seemed very decent indeed. Better yet, "our song" was the next single! A quick straw poll of the members revealed that, for them too, it was all good. I looked forward to hearing it once or twice on the radio, and got 4 tickets for the Usher Hall show on March 5th.
I started lurking on the Jelly's forum - http://www.lemonjelly.ky - and it looked like Shouty was one of the standout tracks of the new album, which was seemingly available to the cognoscenti months before release. You either grudgingly noted it as a sign that your favourite band was changing direction or you TOTALLY LOVED IT! But not much in between. I thought to myself - that is a pure Scars reaction, it must be in our genes.
I put a link to this site on the Jelly pages. It didn't excite much feedback from the fans, but it did elicit a mail bearing big thanks from Fred and Nick. I had cheekily offered to reform the band (should have asked them first I suppose - not all of them liked the idea...) and requested a support slot in Edinburgh, via an interview in News of the World. Nick and Fred demurred, but instead invited us along to the Edinburgh show to actually come on and play the Shouty Track during the gig.
I didn't think it was possible for me to be this excited. The Usher Hall, where in my teens I saw Alex Harvey, Yes, Hawkwind, the Scottish National Orchestra and many others. I knew we'd tear the roof of the place. After so many years of playing to a handful of people in pubs, it was like winning the lottery and waiting to collect the prize money.
The Horrorshow lick is the guitarist's equivalent of a cats-eye - a very simple, effective device. Once you understand how it works, you wonder why nobody did it before. Just play E on three strings simultaneously, and make sure you don't rush the funky little bend. Make the most of the juddering interference sounds as the G string slips towards E. Thank God they didn't sample anything more technically demanding, I thought as I stood in the wings with John and Calumn waiting to go on for our big moment. I was quivering like, yes, a jelly. Just as well there were three strings involved - at Edinburgh and at the Forum I managed to bust the B string - but what the hell.
The story continued in Brixton and Kentish Town the following weekend, by which time I had bought my parents a house, relocated my studio to a spa in Bali, and brought out a DVD called "Post Punk Prog - My Way". Order it now from this site!
So it's hanger-like proportions of love and respect to Nick and Fred and all their team for making it happen, and to John and Calumn for putting themselves on the front line one more time.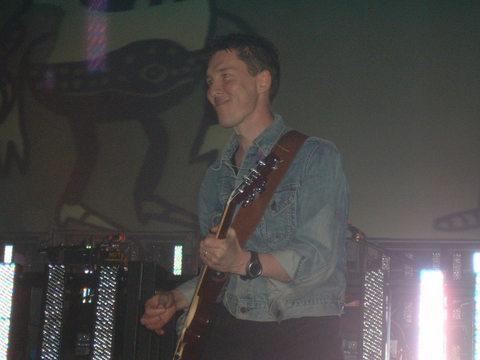 Thanks to Ramblin Man for the pic. reiterate