Paul Research : Live From Bass Rock EP
You Be the Judge!

The descriptions of Golden Gate Bridge and Echo City EPs on this site were mine. I worried that I might be misleading people by describing things that I wanted to hear, but did not really exist in the music. So I set a time limit to put out the third EP, which came to be titled Live from Bass Rock. The Bass Rock is an island off East Lothian which was used as a tiny penal colony. It was an allegory for living the hotel life in London during the week.

In recording, I rushed the playing a little bit, and these songs now seem a little immature compared to the way I play them in a live context. Interestingly the Bass Rock CD is the only one in which all four songs can be played live. That's because I wrote it all after the first live show at ECA.

I gave away this CD to frequenters of this site - mostly Scars aficionados - and invited comments, and here are the best ones. The response was positive, even in the areas that people thought were weak - weak singing, underproduction, and absence of a collaborator were the demerits. It's a credit to the contributors that there was no abuse or even trivial comments, it was all reasoned and well-observed criticism. Thanks to everyone who contributed, and please stay tuned for more!
---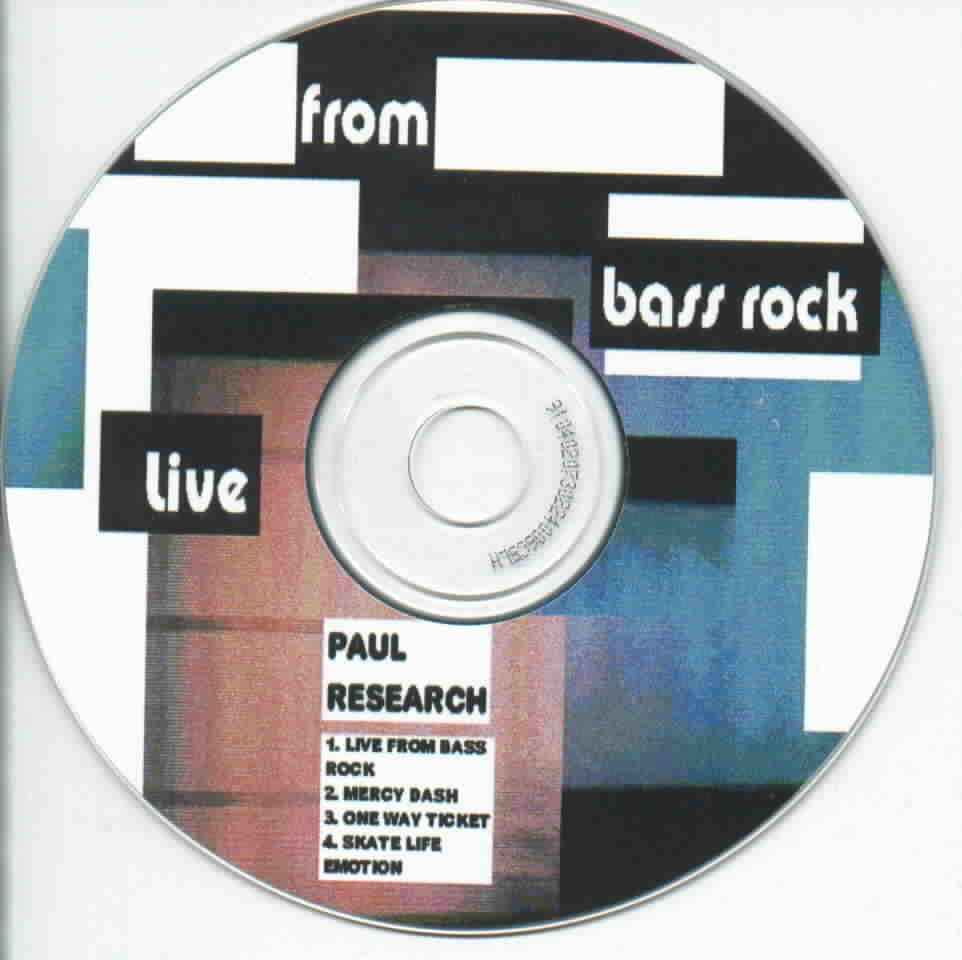 from Dwayne Erickson Berkeley CA
Live From Bass Rock - Interesting mix of grating tech buzz and soothing chimes, leading to intense guitar and drums. A bit spare in instrumentation for my tastes, could use one more element to round out the sound.
Mercy Dash - Atonally processed piano and marimba-this piece would be good for a soundtrack or dance piece. Cohesive and straight ahead.
One Way Ticket - This one is the most developed in my opinion. Shades of Adrian Belew in the processed guitar. Could use a drone or sub-melody. The bridge/ change in melody in the middle is quite expressive and interesting. Definitely avoids cliches and seems to end too soon-my fave of the bunch.
Skate Life Emotion - Almost playful and again soundtracklike. Good changes in sounds and progression. Could use a bit of effects for more atmosphere.
Overall the 4 tracks are good as demo material, but could use a bit more development for final pieces. More art music than pop, this is a sign of an active imagination willing to take chances. Look forward to hearing more soon!
from Darren Stephens - planet Bass Rock
Paul..cheers for the e.p..love it..would love to know the exact instrumentation u used on it..nice bit of production. love the vibey parts..Mercy Dash - almost like beefheart on only marimba.(if you know what I mean;-..could have easily been on ice cream for crow and not be out of place..BIG compliment) and some top screaming guitar too... The one way ticket guitar is almost.(in composition)..bill nelson style. (u know what I mean)..(my Fav guitarist) u said recently that S.Adamsons style was like that..can't see it my self personally,but love the way the e.p moves along..SLE is my favorite..all it needs is me throwing down a bit of fretlass bass (tastefully,not the usual pino,slurs..) but again..i'm with the guy that said..first impressions...Hmmm..so why now is on repeat on my CD player??? infectious stuff...(only lacking my deft touch on a the fretless just for flavour..;-)
top one paul..superb stuff..and the end of SLE just leaves u wanting more....the guvnor!
from Sylvia Spiertz : Pluto
I've had a couple of days to listen to the Bass Rock ep and now I don't know where to begin my comment. You have to listen a couple of times to get the complexity of it. In a certain way it recalls certain songs of scars, particularly those with the variable themes that follow up each other in one composition (author author f.i.). These new compostions can, each apart, be divided in parts of a total different kind of music which fortify each other. Sometimes the structures are very complex but each piece of music has a strong concept, and there is room for that experimental screaming guitar. The way the guitar breaks in at "one way ticket is breath-taking and typical Paul. The way of singin is a conceptual choice that works very well. In Skate Life Emotion, the positive ending, like the evergoing train in kraftwerk's transeurope-express, is a kind of simple beauty.
But I think it wouldn't be bad if Paul sometimes had some feed-back during his composing, like he had at his scars-period. What happens if he could have the release of not making all those decisions by himself?
from Giles Perring - planet unknown
live at bass rock is really a very strange and striking listen. there is plenty of this that, having enjoyed off of the CD, i would equally enjoy listening to as it was being played by instrumentalists in a room...which is meant to be a way of saying how well composed this is. it's proper music this is.
if i may make so bold - get the singing up out of the track a bit more.
Paul Barnes - any planet that suits
Received my ep yesterday, have given it a good listen. My first thoughts were not too impressed, BUT by the end of my first listen i wanted to listen again, and then again. The more times i hear this EP the more it makes me think, what am i istening to?, some strange coalition of The Damned's Curtain Call and Colourbox spring to mind,each song pulls you one way then the other leaving you wondering what comes next, whatever interpretation is made from it the result is very orignal, addictive listening and highly recommended, maybe not everyday listening, but surely theres enough of that about anyway. My advice, try it you wont be dissappointed.
Fergus Callen - Herefordshire
Some brilliant bits of music - get yourself a decent singer!!!
If you want your own CD of Bass Rock (duration 17 minutes), send £10 or the equivalent in your local currency to :

Paul Research c/o Personal Best, P.O. Box 28628, Currie, EH14 5WD, UK.